Ruby Southeast In Nashville
Hello everyone,
There is a great Ruby conference coming up this fall that's only a few hours drive. Check out the details below
----
Southeast Ruby is a regional conference for Ruby developers of all levels. Attending Southeast Ruby provides an opportunity to hear from fantastic speakers such as Avdi Grimm, Kinsey Ann Durham, Ernie Miller, Ben Orenstein, and more.
Attending this year is a chance to be apart of the inaugural year of the conference. Topics range from managing Large Rails Applications, Code Organization, Authentication, Databases, Dealing with Burnout, Chatbots, and more.
Join us in Nashville, TN on October 5-6.
For our friends in the Atlanta Ruby Meetup Group, we're offering a $15 discount using the code RUBYFRIENDSATL during checkout.
If you have any questions feel free to reach out on twitter or at This email address is being protected from spambots. You need JavaScript enabled to view it.
Get Connect.Tech Tickets Before the Price Increase
Sign up for the awesome CONNECT.TECH conference before ticket prices go up in 2 weeks!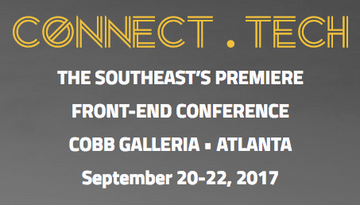 Late prices go on sale in less than 2 weeks, so hurry and sign up at http://connect.tech for the fastest growing Web Dev, Mobile Dev and Design conference in the US. Bring your whole team, group discounts available! Pick from one of 12 awesome full day workshops on September 20:
WORKSHOPS
Angular Fast & Furious (v5+)
Progressive Web Apps from scratch
Functional Programming for the Web & JS
Node Camp
Swift 101 for the non-developer
Design and iterative testing: how to create a winning design, every time!
Angular + Spring + Bootstrap = JHipster
How To Develop Like A Designer
Ionic Workshop: From Native to Web
Redux with React Workshop
React: Beginner to Advanced
JS and IoT: Alexa, bots and more
Followed by 120 sessions in 12 tracks September 21 and 22
Angular
React in Practice
Advanced JS
React Fundamentals
Web/HTML/CSS
Android
Mobility/Mobile Development
iOS
Design/UI/UX
Node-server-side
Practices & other technology
Core JS & Frameworks
Act now and SIGN UP at http://connect.tech before the ticket prices increase on 8/12. We expect 1000 attendees this year so tickets will sell out again!
See you soon
The CONNECT.TECH team
New Open Source Data Science Meetup
From today's e-mail bag, an announce meetup of a new ODSC Atlanta group:
The focus of this meetup group is to present informative lectures, hands-on tutorials, and networking events to help grow the use of open source languages and tools within the data science and data-centric community. As such our specific goals are:
Host data science talks specific to our goals
Promote the use of open source languages and tools amongst data scientists and others.
Host educational workshops
Spread awareness of new open source languages and tools that can be used in data science
Contribute back to the open source community
Who is this meetup for?
Data engineers, analysts, scientists, and other practitioners
R, Python and other software engineers who work with data
Data visualization developers and designers
Non-technical team leaders, executives and other decision makes from data centric startup and companies looking to utilize open source
How can you get involved?
Attending events, network and precipitate!
Give a talk or workshop that meets our goals
Volunteer to help the group (social media, website, blogging)
Provide us with a venue
Sponsor food and beer.
A Couple of New WordPress Meetups
A couple of new WordPress meetups popped up on my email today:
Woodstock WordPress Meetup and Conyers WordPress Meetup.
Is there an official WordPress Meetup Starter Kit? The descriptions of these two groups are strangely similar. Check it out.
Make and Repair
I think the makerspace movement should join forces with the RepairCafe movement. Those that are good at making things are probably also good at repairing things. This would generate positive press for their local makerspace and be an effective community service.
ALE Central Moving!
In Today's Mailbag:
Hi Everyone!
As many people know, our hosting at Emory University with the BioMedical Informatics department in the School of Medicine is coming to an end. With the upcoming move to the department's new space comes new security policies that will be problematic for access for non-Emory people. Not to mention being 6 blocks (uphill both ways) away from parking!
So ALE-Central will be moving it's meetings to the Decatur Makers space (605 W. Ponce De Leon Ave, Decatur, GA) a very short walk away from The Marlay House (a nice Irish pub) and a short drive away from the The Brickstore Pub and Twains and Mac McGees (3 wateringholes I have personally attended many times - Twains has pool and shuffleboard and is a brewpub!). Beginning in March 21, ALE will also shift the meeting time for ALE Central to the third TUESDAY of each month.
None of this will affect the other ALE meetings/meetups so if you don't make the monthly, formal meetings, no problem.
Counterpoint Hackerspace
There's a new hackerspace in Roswell called Counterpoint Hackerspace. They've just moved in to their new space as of October 2016. Their website doesn't have a lot of info as of yet. From their Meetup Page:
We are Counterpoint. Counterpoint is a hackerspace for technical-creative projects, doocratically run by our members. We are a non-profit educational institution intended for public benefit. Come and visit our space located in Roswell, Georgia. We teach, we learn, we share.
New Kubernetes Meetup
There's a new Kubernetes meetup forming. From their Meetup page:
Meet other developers and users of Kubernetes. Kubernetes is an open source orchestration system for Docker containers. It handles scheduling onto nodes in a compute cluster and actively manages workloads to ensure that their state matches the users declared intentions. Kubernetes can run almost anywhere, including Google Compute Engine, Vagrant, CoreOS, Azure, vSphere, RackSpace, etc. Learn more about Kubernetes at http://kubernetes.io
PyData Atlanta
From their Meetup page:
PyData-Atlanta is interested in telling insightful stories about data and exploring the methods behind those stories. We advocate for open data ecosystems and workflows that center on open source tools, especially (but not exclusively) based in Python. We are focused on the vertical integration of tools and skills that transform raw data into insights, and we aim to provide a seminar-like learning environment. We host short interactive presentations, audience-contributed lightning talks, panel discussions, and informal networking opportunities. Our events can benefit both experienced and beginner data scientists alike.
Announced in the September 2016 meeting, this meetup is already the 6th largest PyData meetup in the world. Way to go!
PyData is a national group for users and developers of data science tools to share ideas and learn from each other, especially in the context of Python-based tools. PyData is organized by NumFOCUS.org, a 501(c)3 non-profit in the United States. The PyData Code of Conduct governs this meetup. To discuss any issues or concerns relating to the code of conduct or the behavior of anyone at a PyData meetup, please contact the primary organizer: Tony Fast (This email address is being protected from spambots. You need JavaScript enabled to view it.) or NumFOCUS Executive Director Leah Silen (+1 512-222-5449; This email address is being protected from spambots. You need JavaScript enabled to view it.).